Nomenclature
Revolving Centres
Live Centres
Ball bearing Centres
Description & Features
The Our Rotating Centres are made to IS Specifications. The Rotating Centres are capable of withstanding axial loads, thrust and radial loads.
The housings (or body) of the Rotating Centres are made of low carbon alloy steel, hardened to 30-40 HRC. The spindles are made of ball-bearing alloy steel, and hardened to 60-62 HRC.
The spindles are mounted with bearings to ensure smooth running. The housings are provided with oil nipples for frequent lubrication, to maximize life of bearings.
The alignment between the shank and front spindle is kept within 0.015mm. and the cone runout ( W.r.t. cone and taper angle) is kept within 0.005mm.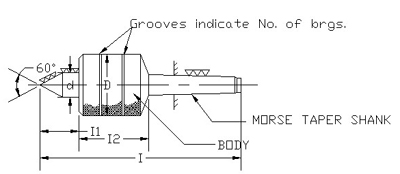 Tapper
d Min
D Max
I #1
I2 Max
I Apprpx
Morse 1
Morse 2
Morse 3
Morse 4
Morse 5
Morse 6
12
18
24
28
36
56
35
45
60
70
75
100
20
24
28
36
40
56
42
45
56
75
80
90
120
140
170
220
255
355
Care in use
Due to axial and thrust loads, the bearings may get heated up and damage the spindle. This happens when higher loads and speed (rpm) are used than what is specified. It is therefore, very necessary to select the correct Rotating Centre.
Frequent cleaning and lubrication are necessary to maximize the life of Rotating Centres.
Rotating Centres must be protected from metal particles and dust entering the bearing hosing.
When not in use, protect the shanks of Rotating Centres by applying rust preventives.