Nomenclature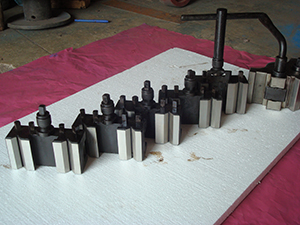 The Quick change Tool Post is also known as Tool Post with Multi – Tool Holder.

Description & Features
The Our Quick Change Tool Posts can be mounted on any centre lathe machine. The main clamp block of the Tool Posts is mounted on the machine cross – slide by removing the normal square type 4- way tool post. The Tool Posts can be easily mounted on lathes by just tightening the clamp block bolts. The Tool Posts can also be mounted on hydraulic copying attachments.
Common Use
As its name implies the Our Quick Change Tool Post is for quickly changing various tools required for different operations. Thus, it increases operational productivity by saving on time and energy expended by a machine operator.
During complex machining operations frequent change of tools is necessary. A conventional tool post makes the change – over difficult and time consuming, due to setting each tool by centering each and every time. In comparison, in the Quick Change Tool Post different tools can be premounted on various tool holders. Thus tools can be changed very quickly and easily, with repetitive accuracy ensured. Also fine adjustments of the centre height are possible with a Thumbscrew Adjustor provided on the tool holder.
SMA – 210
SMA - 150
HMT – LB – 17, LB-20
LT – 20, NH – 22, NH-26
H-22,H-26, Vikram Mysore Kirloskar
Shimoga, Enterprise Series etc.
My sore Kirioskar
EP – 1330, Hicut, GD
Loyal, Gedee Weiler
Anil, Tiger etc.Small Lathes.
Centre Height
180 MM to 250 MM
Tool Shank Size
20-25 mm. sq
Centre Height
150 MM to 180 MM
Tool Shank size
15-25 mm sq
Care in use
Thoroughly clean the machine cross- slide before mounting the tool post.
Tools to be tightened by using only the box spanner supplied.
Ensure tool holder is smoothly clamped. Using extrleverage force may block mechanism.
While mounting a tool holder onto the clamp block ensure the corresponding ground portion is clean.