Description & Features:
The Our 2/4/5/6-Jaw Self-Centring Chucks have features similar to that of 3-Jaw Self-Centring Chucks. The chuck body is made either of cast iron hardened between 180 and 220 BHN, or of forged steel. The scroll plates are made of high quality heat-treated carbon steel. The jaws and pinions are made of alloy case hardened steel.
Selection of 2/4/5/6-Jaw Chucks
a)The diameter of the Chucks must be chosen so that the jaws do not protrude outside the chuck body or within the chuck bore, when holding a job. This is particularly important in 6-Jaw Chucks, as the Chucks have six slots the stresses on the chuck body will be very high if the jaws were to extend outside.
b) The diameter of the Chuck should be slightly less than twice the centre height of the machine.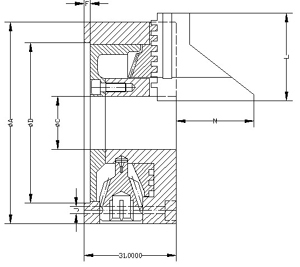 Dimensional Data
Sl.No.
Chuck
Size
Φ A
B

Φ C

H7

Φ D

H7
PCD
E
F
J
I
L
M
1
2
3
130x3
130
55.0
35
102.0
114
3
M 8
15.5
46
54
4
160x3
160
64.5
42
125.0
140
3
M10
18.36
50
62
5
200x3
200
75.0
55
160.0
176
5
M 10
24.0
82
80
Care in Use
The 2/4/6-Jaw self Cent ring Chucks need to be mounted such as to ensure they hold true to the centre of the machine . For this, ensure that the face and outer diameter of the backplate run true. A Chuck so mounted will run true to the machine spindle.